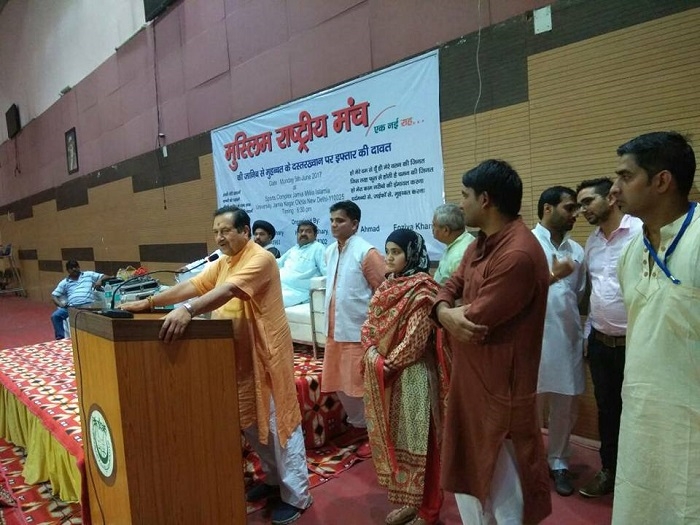 New Delhi, June 6: The Muslim Rashtriya Macnh (MRM) organised a Roja Iftar party at Delhi's prestigious Jamia Milia Islamia on Monday. The participating 'Rojedars' were served cow milk to break their fast (Roja).
Over 500 students, teachers and members of MRM participated in this unique program held first time in the university. Jamia Milia VC was expected to present at the function, but he could not because of some technical difficulties.
Senior RSS functionary and Patron of MRM Indresh Kumar participated in the program. Some students tried to oppose his presence in the university but he ignored their slogan shouting and appealed to them to give up bad virtues and imbibe the noble qualities.
He said that those raised slogans opposing his entry into the institution were treading the 'Satan's way'. However, he said that he prayed for them also. They should have talked to us about improving the status of Muslims in India and developing the country. They should have talked about giving up violence in Kashmir and hosting the Indian flag there.
Addressing the 'Rojedars' Indresh Kumar said that Islam did not teach divisive tendencies but preached fratwrnity and brotherhood. May God forgive those who are opposing the event and shouting slogans, he said.
Addressing a crowd, Kumar also said Indian Muslims should "struggle to make Islam beautiful, not unattractive".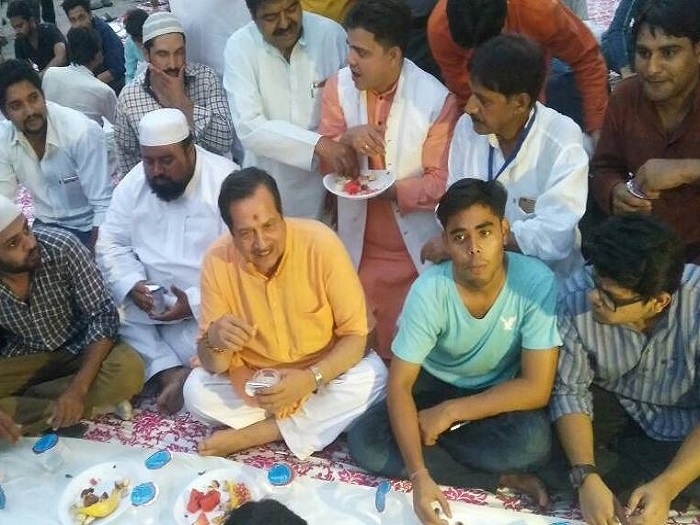 He said that with the purity of mind and spirit we also need the purity of our surrounding. Hence, he appealed to the people to plant shady trees in their courtyard, at mosques and madarsas and school premises to make the environment pollution free and bring the Tulsi or Rehan plant in their homes to keep the air free of pollution and to ensure 'your place in the heaven' as Tulsi or Rehan is knwon in Arabiq as 'Rehan'.
Talking to media after the Iftar party, Indresh Kumar said that Ramjan is a holy month and people purify them by observing roja. He said that the MRM has appealed to the Muslims to plant a tree outside during Ramjan to keep the environment free of pollution and bring a Tulsi plant in their houses to secure Jannat. He also appealed them to refrain from consuming beef as it was considered as health hazard and consume milk as it was good for health.
Kumar said that the Prophet and his heirs did not consume meat. "Meat is a disease… Milk is the cure." According to their advice, he said, whoever sacrifices animals and consumes them is eating poison."
Replying to a question on Modi government not organising Iftar parties like their predecessors, Indresh Kumar said that the government of the country is truly secular. If they hold Iftar party then they would as well celebrate other festivals also.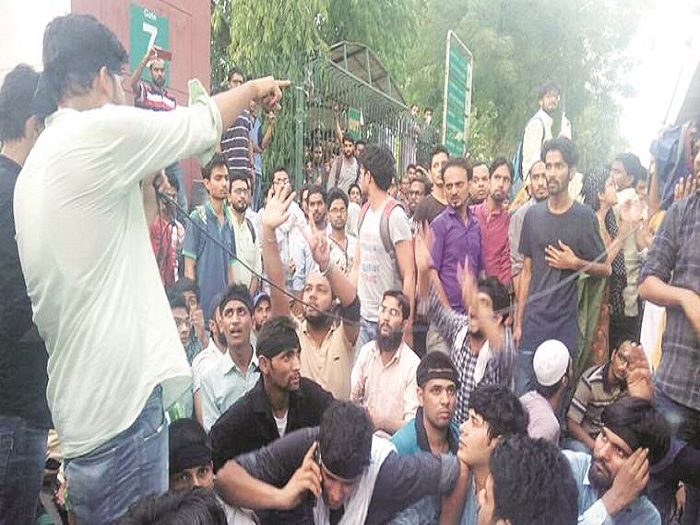 This government has removed the venom of communalism injected in the guise of secularism by the previous governments and brought the nectar of harmony and goodwill in the society, he said congratulating the Modi government.