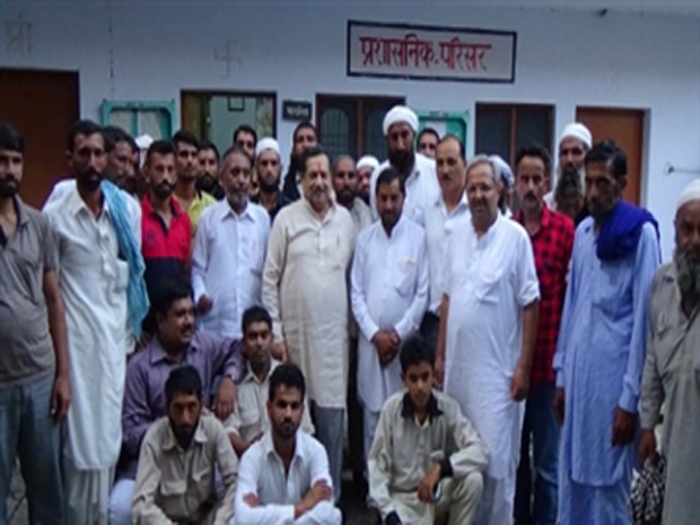 Nurpur, Sept 10: Separatist Kashmiri leaders are not real well-wishers of the Kashmiri people. They are hypocrites of the first order. Had they really cared for the Kashmiri people they would have participated in the discussion with the all-party delegation that had visited Kashmir recently, said Indresh Kumar.
He was speaking at the meeting of Muslim Rashtriya Manch (MRM) held at Wazir Ram Singh Smarak here on Tuesday. MRM Pradesh Sanyojak K D Himachali presided over the meeting.
Addressing a fairly attended meeting Indresh Kumar, who is also the patron of the MRM, said that an effort to kindle the feeling of patriotism and nationalism is being conducted by the Muslim Rashtriya Manch. The MRM is also trying hard to eliminate fundamentalism, he added.
He said that most secular political parties, especially the Congress had used Muslims as their 'vote banks' but never cared for their economic wellbeing and academic excellence.
He said that on the Independence Day this year, the MRM took initiative and unfurled the national tricolour in 9387 madarsas all over the country.
Taking a dig at Pakistan, he said that the Pakistani government would not care for the Kashmiri people as they cannot care for their own people properly.
He alleged that the separatist leaders in Kashmir Valley were trying to shed crocodile tears over the situation but they are not at all interested in the welfare of Kashmiri people. They are only interested in their own welfare, he said.
MRM Pradesh Convener K D Himachali also addressed the gathering. Sah-Sanyojak Mohd Shaki and other MRM activists were present on the occasion.