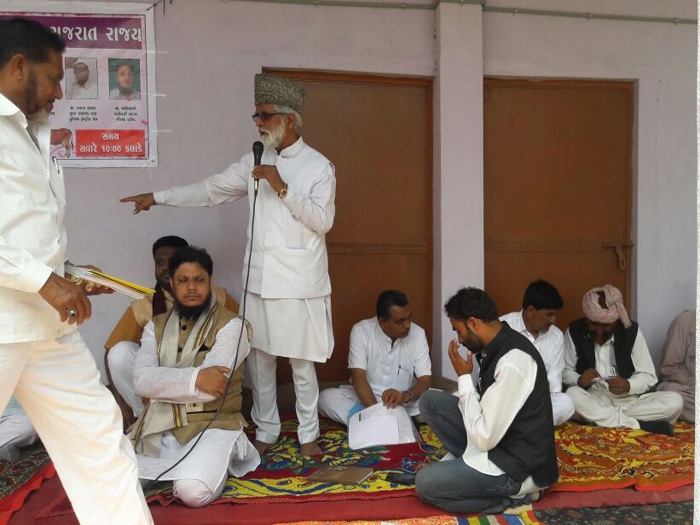 Bhuj, Oct 6: The government has provided financial schemes for supporting those engaged in rearing milch animals and Muslims engaged in this profession should avail of these schemes and facilities, said Mohd Faiz Khan, National Convener of Muslim Rashtriya Manch Gau Raksha Prakoshth.
He was addressing a convention of Muslim Gaupalaks at Maulana Azad Educational Campus at Gorevali Banni in Kutch region of Gujarat. The program was organised by MRM for providing information regarding the latest techniques and methods of nourishment and development of cows.
Speaking on the occasion Mohd Faiz Khan said that cow milk is good for health and ghee from the cow is as good as medicine for every individual.
Director of Gujarat Wakf Board Haji Amada said that some section of the society is harassing the poor gaupalaks and we have taken a serious note of this and will initiate desirable actions against culprits.
MRM National Organizing Co-convener Virag Pachpore in his address said that Muslims in India shared ancestors, culture ,and motherland with the Hindus as they belonged to this country. Muslims should concentrate on the education of their children for all-round development, he added.
Gurajat Pradesh MRM Gauraksha Prakoshth Pramukh Zaheer Qureshi, Bashir Mollah and Mir Khan Mutva addressed the gathering.
On this occasion Sarpanch of Dhorda village Miya Hussain Mutvaiye informed that In the year 1961, there was a time when almost 66 thousand cows were there in this village but due to some reasons there was a sharp decline in their number.
Muslim gaupalaks from nearby 40-50 villages came to the program in large numbers.